A few days after Munna's birth, I knew that he wasn't an ordinary baby. I had always imagined that babies just lie peacefully in their cribs, happily gazing away at the musical mobile above on their cots. I thought I would easily be able to juggle studies, job and a family. But man was I wrong! Munna challenged that perception and he challenged it hard. Not only that, he has forced me to review my priorities in life and change my whole take on it. That we will talk about later but for now I want to say that I can't thank enough for the day I stumbled upon Dr Sears' "The Attachment Parenting Book" .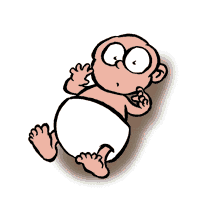 So what is this High needs baby thing that I keep talking about. Dr Sears has described a High needs baby having the following features:
1) Intense
2) Hyperactive
3) Draining
4) Feeds Frequently
5) Demanding
6) Awakens Frequently
7) Unsatisfied
8) Unpredictable
9) Super Sensitive
10) I Can't Put My Baby Down
11) Not A Self-Soother
12) Separation Sensitive
Dr Sears goes on to say that all the babies have a "high need" in one or more areas of their life but high needs baby, well how do I put this? He/she extracts every little ounce of energy from your body to make sure that all of his/her needs are met and met right now! (sorry but there wasn't really a nice way to put it because that's how it is :)).
Dr Sears' list is pretty concise but as we have watched Munna grow and reveal his personality over the last 2 years, there are a few things that I would like to add on to it:
Acute Alertness/curiosity
Independent
Doesn't take confinement easily
Gets bored quick
Doesn't forget things quick
Likes movement
Craves touch/attachment
Doesn't take "no" for an answer
And should I add on an infectious laugh and those very bright eyes! Because in the end that's what keeps me going. It's my silver lining in the cloud, it's a reassurance from my baby that mum you are doing just right :).
Do you have a high needs child? What characteristics did you notice in them? Would love for you to add on to the list 🙂
Animation by netanimations.net
Leave your thoughts & comments